For those NOT in the know, Russell Simmons is one of USA Today's "Top 25 Most Influential People of the Past 20 Years." He is not only a hip-hop pioneer, but he is very inspiring in all aspects of the entertainment business and more importantly, the fashion industry.
He is an entrepreneur and along with Phat Farm and HBO's Def Comedy Jam and Def Poetry Jam, Simmons has launched a new ground-breaking fashion line, Russell Simmons Argyle Culture. (Check out his site 
here
) Additionally, here is a screenshot. From a designer's POV, I really enjoy the navigation of the site and I took a quick liking to the simplicity and the incorporation of argyle seen at the bottom of the page :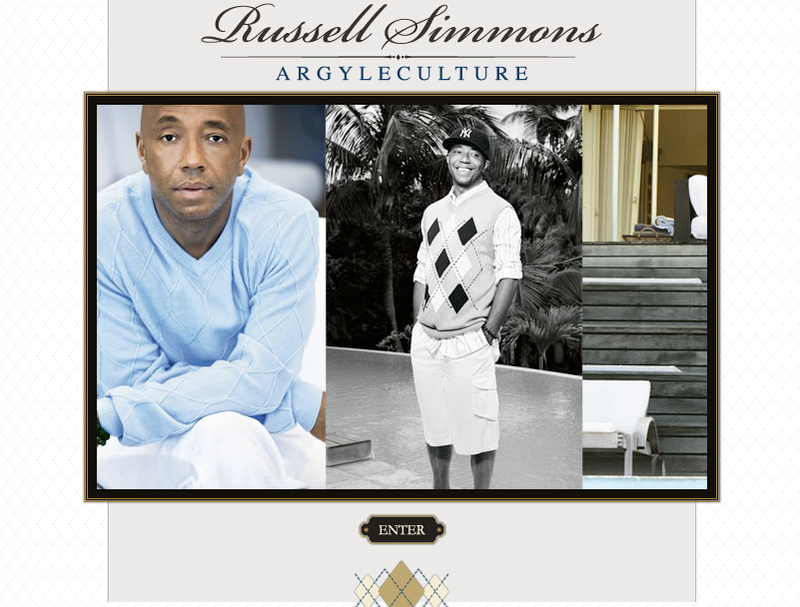 RSAC is mostly urban clothing for men and Elle recently showcased the Spring 2009's Ready-To-Wear fashion runway show featuring RSAC. There are a ton of different types of argyle... here are some of my favorites boys, er..I mean, argyle pieces :
Totally diggin' the crazy diamonds and bright blue shorts. 
Actually, I recently purchased denim pants of the same color.
Can't go wrong with purple!
A bit of khaki-overkill, but the socks are kinda cute.
For those who don't know me very well, I am all about bright colors, so the pieces that Russell Simmons put out intrigued me. I'm not really a fan of the white tennis shoes, but I enjoy the stark difference it makes in comparison to the crazy-out-there-shades of color. My favorite ensemble would probably be the last picture. Though some people may argue that the sweater vest contains just diamonds and not necessarily an argyle-pattern, I like the checkered, salmon-colored button-up and the gray shorts to compliment the sweater vest. I'm not big into accessories on men, but I mean, this guy is obviously TD&H, so who's complaining? Not me.